Description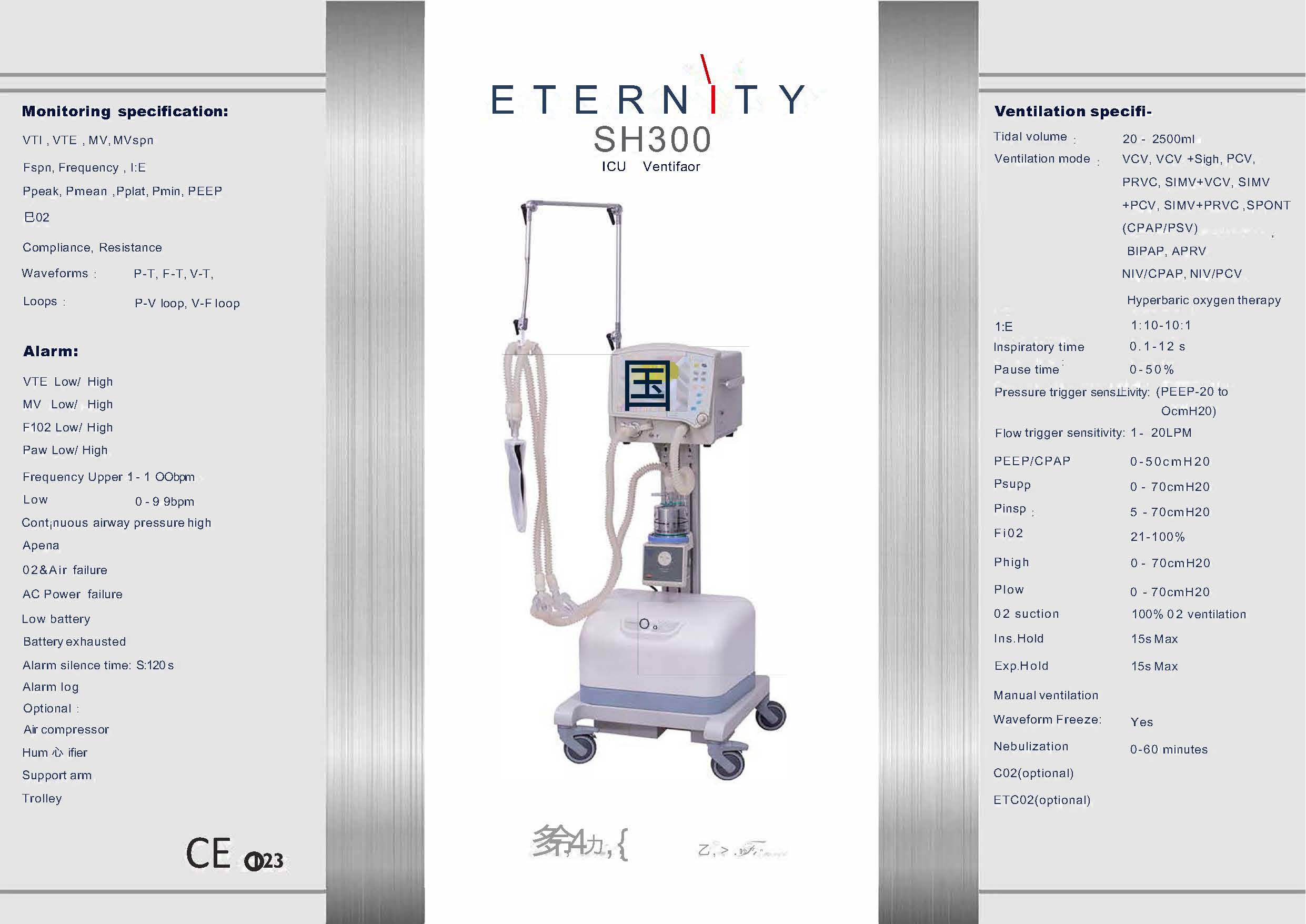 .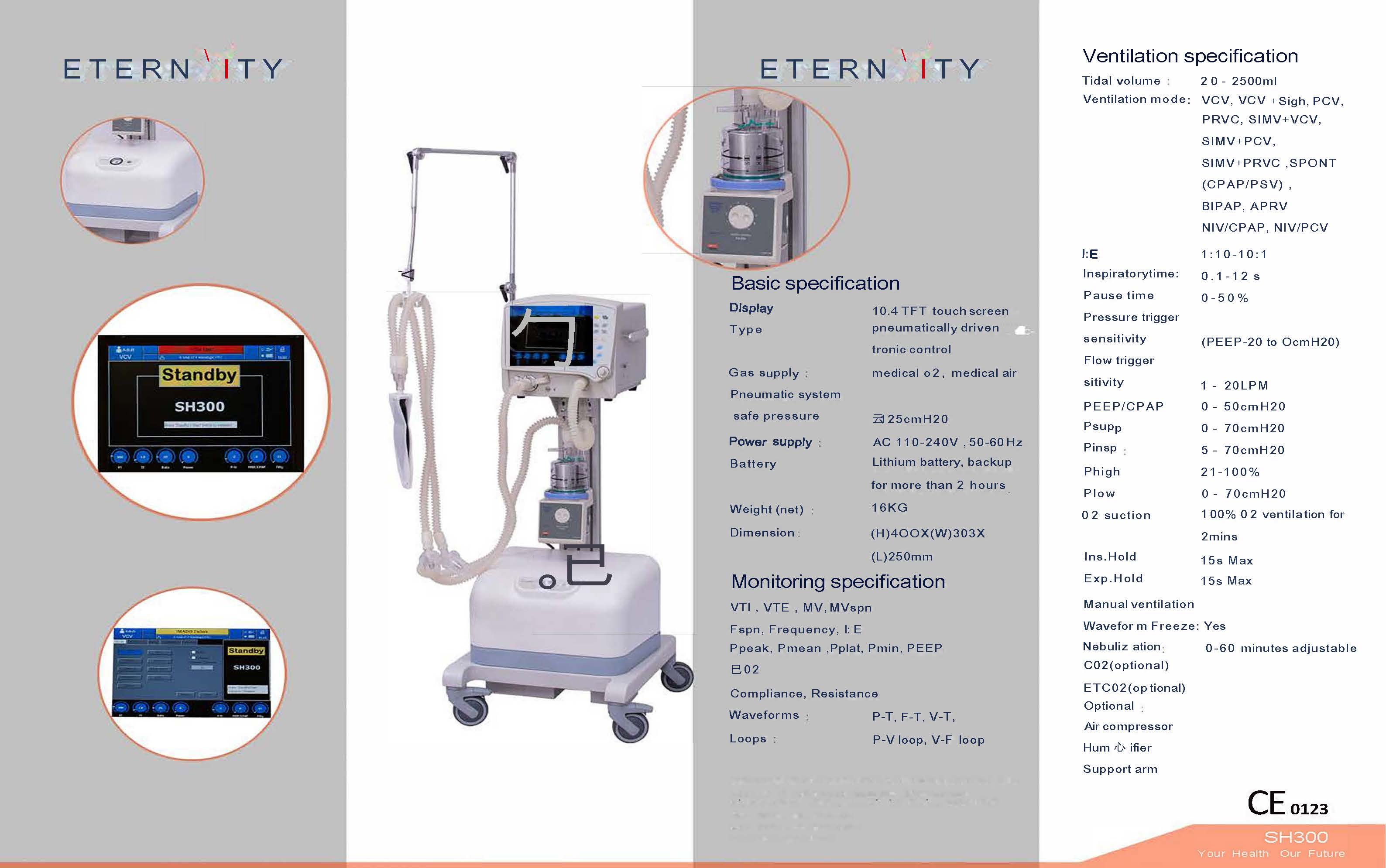 Specifications
Ventilator setting
Ventilation mode: VCV, PCV, PSV, SIMV-V, SIMV-P, SPONT, CPAP, backup apnea ventilation, APRV, BIPAP (optional)
Tidal volume: 50~1500ml
Breath rate: 1~100bpm
SIMV breath rate: 1~40bpm
Inspiratory time: 0.1~12s
Pause time: 0~4.8s
Pressure trgger sensitivity: (PEEP-20cmH2O)~PEEPcmH2O
Flow trigger sensitivity: 1~20LPM
PSV: 0~70cmH2O
High pressure: 1~80cmH2O
Low pressure: 0~79cmH2O
Waveforms displayed: P-T, F-T, V-T, P-V loop, V-F loop
PEEP/CPAP: 0~50cmH2O
FiO2: 21~100%
Psupp: 0~70cmH2O
Pinsp: 5~70cmH2O
Thigh: 0.1~30s
Tlow: 0.5~30s
Phigh: 5~70cmH2O
Plow: 0~50cmH2O
Alarm silence: ≤120s
Parameters monitored: VTI, VTE, MV, MVspn, f, fspn, FiO2, Ppeak, Pmean, Pplat, PEEP, Pmin, Compliance, Resistance
Interface: RS232, VGA
Assist functions
Freeze: Freeze current screen and suspend real-time data
Insp hold: 15s max
Exp hold: 15s max
O2 suction: 100% O2 for 2 munites
Manual insp
Alarms
MV-upper limit: 0~99L
MV-lower limit: 0~99L
Paw-upper limit: 0.1~8KPa
Paw-lower limit: 0~7.9KPa
VTE-upper limit: 0.05~2.00L, OFF
Rate-upper limit: 0~100bpm
Rate-low limit: 0~99bpm
Tapnea: 15~60s
FiO2-upper limit: 21~100%
FiO2-lower limit: 21~99%
Main failure, Battery low, Battery discharged, Air/O2 supply down, Circuit occlusion
Power and environmental
Power: AC110~240V, 50~60Hz, DC 12V, 4.4AH
Power comsumption: 65VA
Driven mode: Pneumatically driven, electronically controlled
Air/O2 supply: Pressure 0.28~0.6MPa >50L/min
Temperature: Operation 10~40°c;    Storage -20~55°c
Relative humidity: Operation ≤80%, non-condensing;    Storage ≤93%, non-condensing
Atmospheric pressure: Operation 70~106KPa
Order information
Option: Compressor
Accessories: Power cord, Gas pipeline, Patient circuit, Face mask, Humidifier, Support arm
SH-300 is equipped with a large 10.4″ full-color display. SH300 ICU Ventilator, The high resolution display provides for a flexible graphics menu combining respiratory curves, loops, and numerical data of physiological parameters.
Inspiratory Hold
Convenience for taking X-ray picture of the patient during ventilation, SH300 ICU Ventilator, availability for clinician to assess patient's static pulmonary mechanics.
Expiratory Hold
Accessibility for measuring intrinsic PEEP
100% FiO2
More effective support for suction
Manifold parameter selections
The manifold parameter selections are operated by means of a single ComWheel
Manual Inspiration
Availability for clinician to make prompt response to patient's inspiration need
With heating function, SH300 ICU Ventilator, the expiratory valve protects the device from condensed water, accuracy of the flow sensor is ensure.
Warm and humidify airflow with protection function, n95 mask near me, nine steps to control temperature.
High quality medical compressor with low noise, SH300 ICU Ventilator, compatible for most medical devices.
10.4″ TFT color screen
Easy setting by navigator wheel knob and touch key
Wide choice of ventilation modes including CPAP, APRV, BIPAP
Flow and pressure trigger
Static compliance and resistance monitor
PEEP, P-V loop, V-F loop
Three-level visual and audible alarm, n95 mask cvs, with concise words describing problems
Advanced built-in electronic air-oxygen mixing device
Durable and accurate built-in flow sensor
Integrated expiration valve, easy to be sterilized
Backup apnea ventilation
Auto nebulizer
Built-in battery
CE certified